Black Friday Shopping has been a favorite thing of mine for many years. This year however it was done all on the computer. Being sick this year really put a damper on my Thanksgiving dinner with my family and my shopping. But that is just part of living the life I live. I do have to share some of the deals that I found that I am super excited about.
I did a little shopping for myself as well as my family. I wont be posting the gifts I found for my family because they do read this blog and I do not want to ruin their surprises. I think my favorite things I got I actually found on Jane.com. I had never really shopped there but they had some amazing deals. Are you familiar with Jane.com? I was not until i recently saw it mentioned on someones instastory.  Basically Jane.com is a website for all sorts of companies to post their items. Its kind of like renting a both in retail space only online. So you can literally find anything at this one stop shop website. I found electronics like headphones and charges for my electronics. I found clothes of course, and I found all sorts of fun things. The only downfall is that if you buy multiple items from different vendors you do have to pay shipping to each different vendor.
Now that I have explained Jane.com I will post some of thbe deals that I found. I will start with the items I found on Jane.com
First I got a 10Ft bungee changer for my Iphone, for $3.99. They are available for Iphones and Samsung phones.
I also found some great deals on t-shirts. Not that exciting however necessary.
First is the Long Boyfriend Pocket Tee, in sizes S-2XL. I got one for $12.99
And I also got two Hi-Low Oversized Tees. They are available in size S- 2XL. I got them for $9.99 each.
This next one I am super excited about. It is a 22 piece makeup brush set from Coastal Scents .I read the reviews and they were Fantastic!!! Normally a brush set of this size would cost $40 or more. I got this one for $14.99!!! They are still on sale and their whole website is 50-80% off through 11/28/17 at 11:59pm. So definitely go check them out!!
The next item I got that I am super super excited about is from A shop on ETSY called BOSSBOOK!! They make business planners, workbooks and notepads!! They can customize them for your business. Right now they are offering FREE SHIPPING on any order over $50! The planner I got is specialized for makeup and beauty consultants. If you have a a team and want planners for all of them they do offer group discounts. And Kaitlyn is great to work with and her customer service is amazing!!! So go check them out!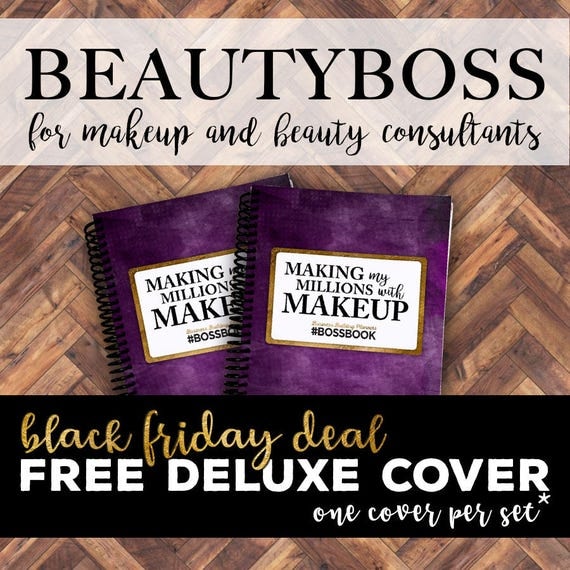 These are my favorite items that I got on Black Friday and I just wanted to share with you all so you can also go check out these awesome websites.
Hope you all have had a great Thanksgiving and found some amazing Black Friday deals.
Amber